Solar Energy International (SEI) is offering an exclusive discount on our textbooks, the Solar Electric Handbook: Photovoltaic Fundamentals and Applications and Fotovoltaica: Manual de Diseño e Instalación, for the month of December.  This holiday season, give the gift of solar energy knowledge to the budding solar professional in your life with this limited-time offer! Normally $129 for the Solar Electric Handbook, we are offering $20 off, and $10 off Fotovoltaica, which is normally $45.  Visit our online shop to order. 
Solar Electric Handbook: The Solar Electric Handbook: Photovoltaic Fundamentals and Applications, is your one-stop-shop for solar and renewable energy basics. This textbook covers topics such as: an overview of photovoltaics and the solar industry, basics of electricity, modules, wiring in series and parallel, meters, solar site analysis, grid-direct system sizing, grounding, wiring, overcurrent protection, best practices for safe installation/commission, battery-based systems, solar business and finance, and more!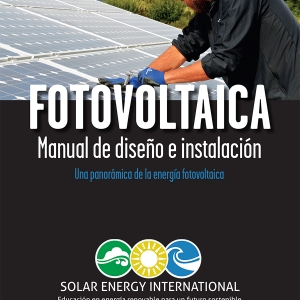 Fotovoltaica: Desde el 2003, SEI ha publicado libros de texto liderando en la industria y elevando los estándares de calidad de programa de capacitación en Energías Renovables en EEUU y en el mundo entero. Nuestro Manual de Diseño e Instalación de Sistemas Fotovoltaicos, disponible en español, incluye tanto temas básicos como altamente técnicos. Esto lo hace útil para todas las personas involucradas en este mercado, desde principiantes hasta profesionales.
El libro contiene una panorámica de la electricidad fotovoltaica así como una descripción detallada de los componentes de los sistemas FV. Este también incluye capítulos dedimensionamiento de dichos sistemas FV, análisis de sitio, detalles de mantenimiento y de solución de problemas, así como datos de irradiación solar de lugares alrededor del mundo.
Make sure to get a copy before this deal expires! And if you really want to support the aspiring solar professional in your life, our PVOL101: SOLAR ELECTRIC DESIGN AND INSTALLATION online class starts January 8, and registration is still open. FVOL101: DISEÑO E INSTALACIÓN DE SISTEMAS FOTOVOLTAICOS CONECTADOS A LA RED begins on February 26. 
The post Just in time for the holidays, pick up a discounted copy of SEI's Solar Electric Handbook and Fotovoltaica! appeared first on Solar Training – Solar Installer Training – Solar PV Installation Training – Solar Energy Courses – Renewable Energy Education – NABCEP – Solar Energy International (SEI).